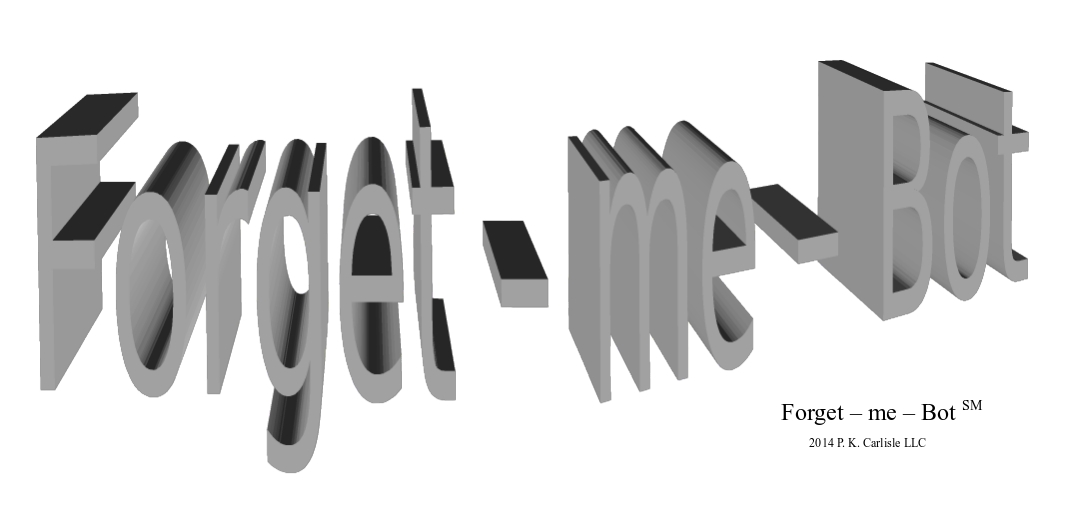 As a private individual "may, in the light of his fundamental rights under Articles 7 and 8 of the Charter, request that the information in question no longer be made available to the general public on account of its inclusion in such a list of results, those rights override, as a rule, not only the economic interest of the operator of the search engine but also the interest of the general public in having access to that information upon a search relating to the data subject's name."
-- European Court of Justice, May, 2014



Now that the Court has spoken, all that remains is to contact the search provider with requests to remove or sequester specific search results which are found when your name is the object of a search. Some methods are better than others to complete this request. Forget-me-Bot believes that the best way is to make your request while generating documentation for your own records (Americans call this a "paper trail", and generally speaking, the greater the paper trail, the less American companies like it, but the safer it is for individuals). Forget-me-Bot will help you to complete and will submit your request that a search result be removed from Google or Yahoo! and do it in such a manner that you have a paper trail of the request.


A search provider may have its own interpretation of the European Court's decision. By submitting a request for link removal online you may be accepting the search provider's definition of which links are eligible for removal, and this could result in eligible search results not being removed. Don't be fooled! Don't submit a removal request online! Submit your request through Forget-me-Bot instead.




How does the process work?


When you check out, payment for Forget-me-Bot is made through Paypal. At that time, you will provide your contact information including your name and email. You will also have an opportunity to include a message. Simply add the search link that you are contesting to the message in Paypal when you pay Forget-me-Bot.
Once the link is received with your Paypal payment, the link will be confirmed by Forget-me-Bot. Confirmation will take place using servers located in Europe. This will confirm that the link is valid, and that a search provider should be able to act upon it.
Documentation of Forget-me-Bot's confirming search will be collected by Forget-me-Bot.
You will receive a form by email to be completed and signed electronically, requesting removal of the search result from the provider.
When you complete and sign the form electronically and return it, your request form, together with Forget-me-Bot's documentation of the link will be forwarded to the search provider.
Forget-me-Bot sends you confirmation that your request was communicated to the search provider.







How much does it cost?



Forget-me-Bot will process one (1) request for €10 or two (2) requests for €18. This includes:


confirming and documenting the link with Europe based servers,
providing a request form for you to complete, sign electronically and return to Forget-me-Bot,
submitting your request form and confirming documented communication directly to the search provider responsible for the search result you provide,
providing documentation to you of all steps taken all along the way.

How do we begin?


1. Start with a web search. Search for your name in the search engine which returns the problem link. Forget-me-Bot needs that problem link.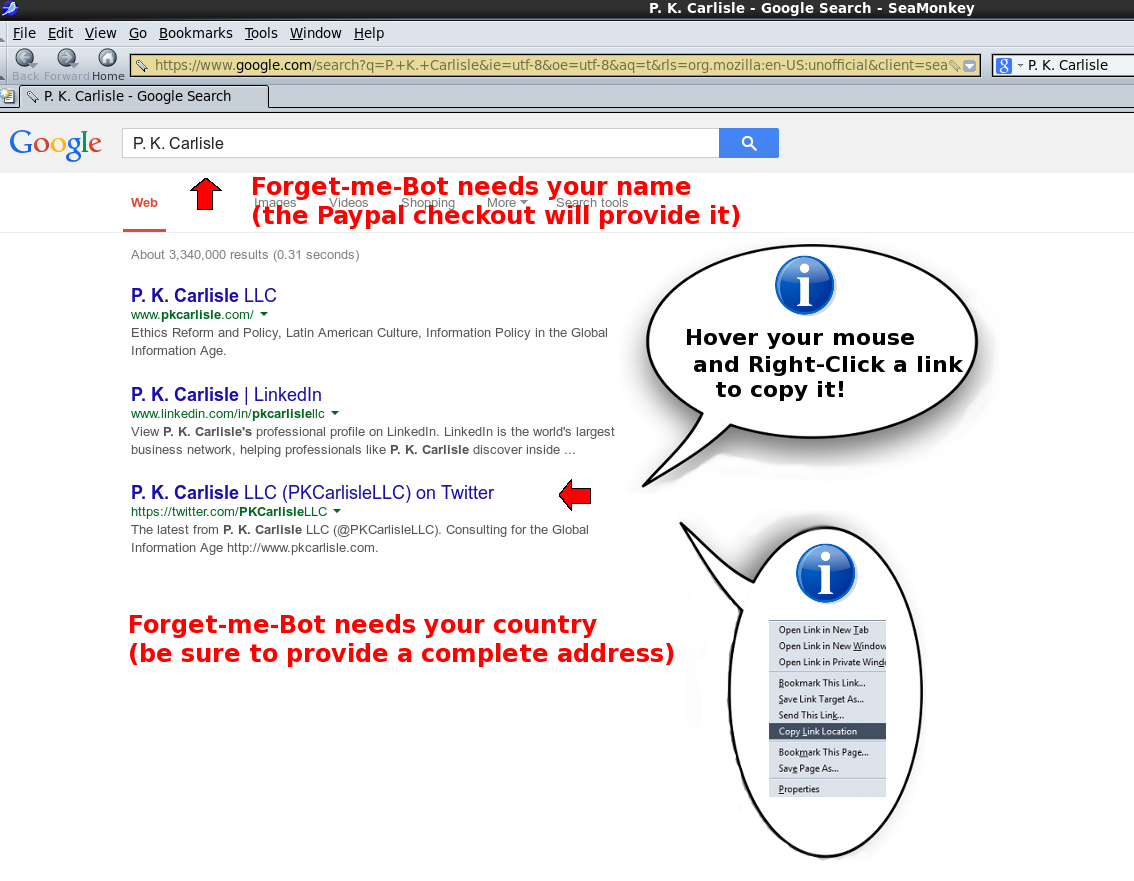 2. If the link you wish to contest is with Google, choose the Google product following these instructions. If the link is with Yahoo!, click the Yahoo! product.







3. Complete the Paypal Checkout as shown.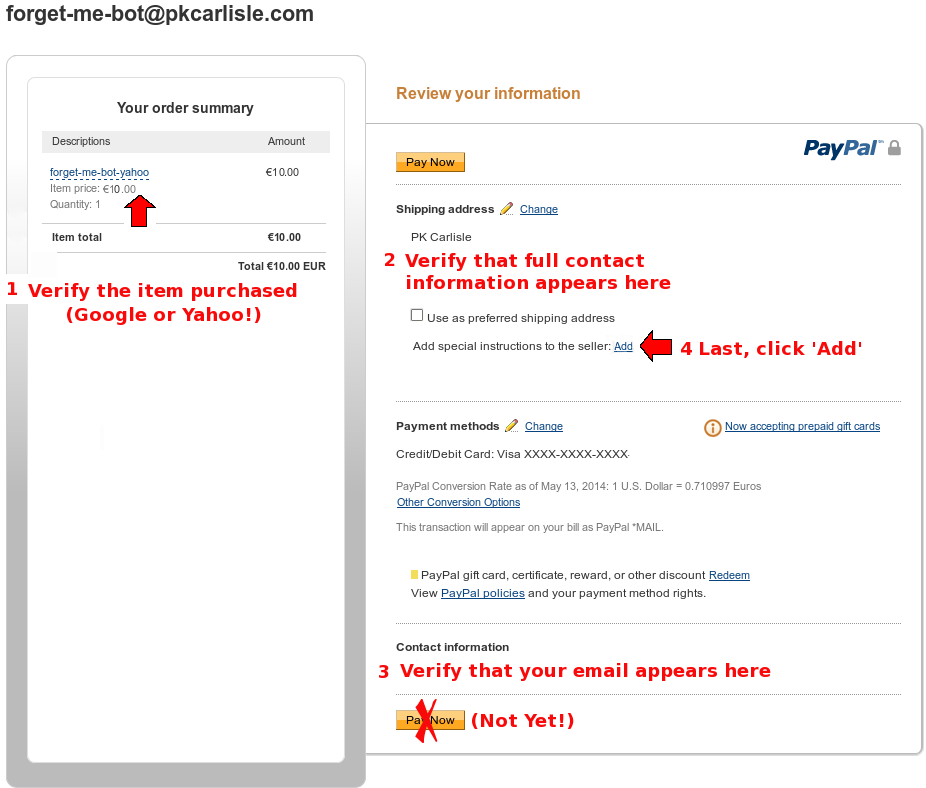 4. Paste the contested link in the Special Instructions section.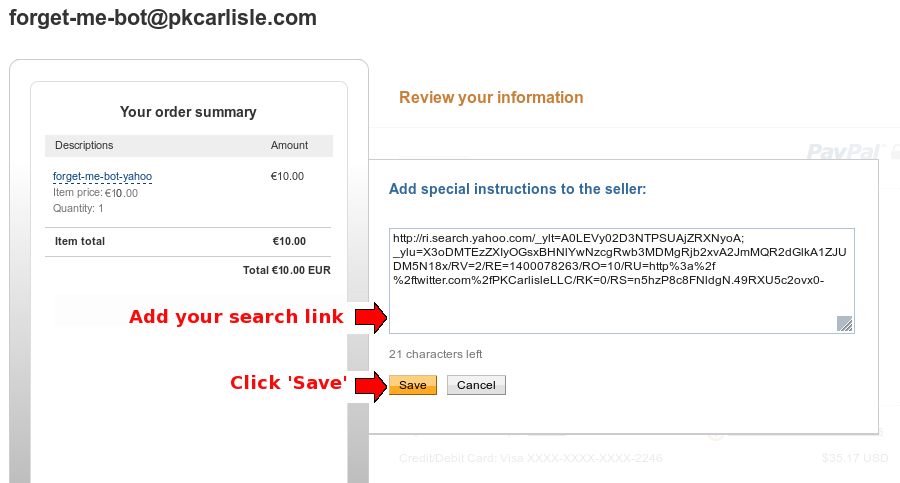 5. When Forget-me-Bot receives your Paypal payment with the contested link and verifies the link, you will receive a document by email for your electronic signature.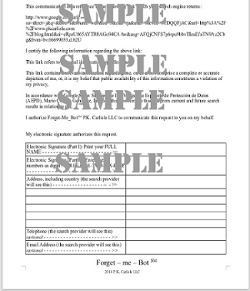 6. Complete the form as instructed and email it back to Forget-me-Bot.


7. Forget-me-Bot communicates your request to the search provider.


8. Forget-me-Bot provides you with copies via email of all documentation including confirmation of communication with the search provider.




I would like additional information.



Additional information is available in the FAQ.




Let's Get Started!




| | |
| --- | --- |
| I wish to contest a link with Google | I wish to contest a link with Yahoo! |
| | |





Share this on

witter or

acebook.